HOS Receives 2022 HIRE Vets Medallion Award from U.S. Department of Labor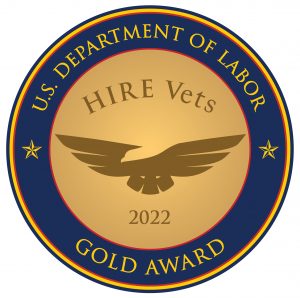 Frisco, Texas – November 9, 2022
– U.S. Secretary of Labor Martin J. Walsh recognized High Order Solutions (HOS) as one of the 835 recipients of the 2022 HIRE Vets Medallion Award during a virtual award ceremony presented by U.S. Department of Labor. High Order Solutions earned the platinum award after applying earlier this year. The Honoring Investments in Recruiting and Employing American Military Veterans Act (HIRE Vets Act) Medallion Program is the only federal award program that recognizes employers who successfully recruit, hire, and retain veterans.
"Whether your business is Veteran Owned or has a Veterans hiring initiative, yours can benefit by hiring a Vet. No matter the business size or industry there are certain traits that all employers want to see in their employees.  A strong work ethic, loyalty, a team player, eager to learn, and a desire to be part of something great, new, or purposeful. Not to mention the camaraderie that comes with being part of a close-knit team. That's why Veterans are especially perfect for startups as well. To them it's not just a 9 to 5 job but a real opportunity for 110% effort and a chance at great rewards.  Combine these positives with all the other employer incentives, like the Work Opportunity Tax Credit (WOTC) and the many funding sources for free training and certification for Veterans, and you have a much greater chance of filling your job reqs with successful candidates." –Michael Callies, HOS Board of Directors
High Order Solutions joins 834 other companies from 49 states, plus the District of Columbia, who have shown a commitment to hiring veterans, but also ensuring that they have a long-term career and growth plan that uses the diverse skills they acquired through their military service.
Recipients of the 2022 HIRE Vets Medallion Award meet rigorous employment and veteran integration assistance criteria, including veteran hiring and retention percentages; availability of veteran-specific resources; leadership programming for veterans; dedicated human resource efforts; pay compensation and tuition assistance programs for veterans. More than 1,400 employers have earned a HIRE Vets Medallion Award since 2018.
About HOS:
HOS is a Veteran Owned IT Business specializing in Consulting and Support Services for our customer's Open Source and Atlassian products. Whether you're hosting them in your own data center or in the cloud we have the expertise and manpower to manage your applications so you don't have to.
About the HIRE Vets Medallion Program:
The HIRE Vets Medallion Award is earned by businesses that demonstrate unparalleled commitment to attracting, hiring and retaining veterans. The 2023 HIRE Vets Medallion Award application period will open to employers on Jan. 31, 2023. For more information about the program and the application process, visit HIREVets.gov.    There are different awards for large employers (500-plus employees), medium employers (51-499 employees), and small employers (50 or fewer employees). Additionally, there are two award tiers: platinum and gold.